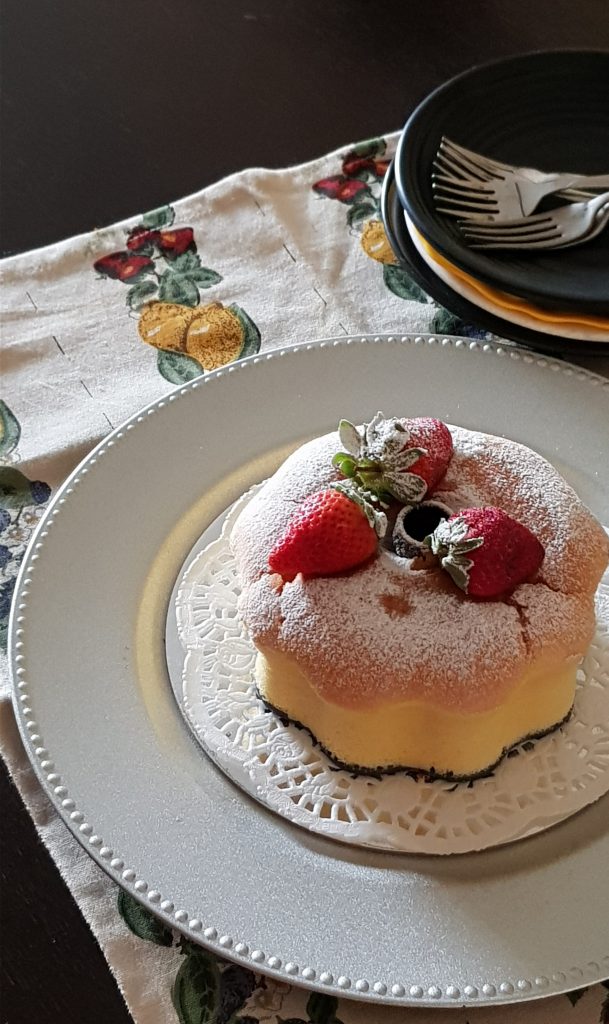 Vanilla Chiffon cake is airy ,fluffy ,moist ,sponge with tender crumbs. It is a simple recipe with basic cake ingredients . It contains both egg white and egg yolks (separated)along with milk ,oil, caster sugar and a pinch or two cream of Tartar. Egg yolk and oil adds richness to the cake and keep moist and fluffy even refrigerated. This cake may be baked either in Tube (angel Food) pans,or any round inch pans. I have baked in both the pans and result is the same beautiful fluffy cake. Today I made it in a small Tube (Angel Food )pan 6 " which is more than enough for two( Hubby and me)????.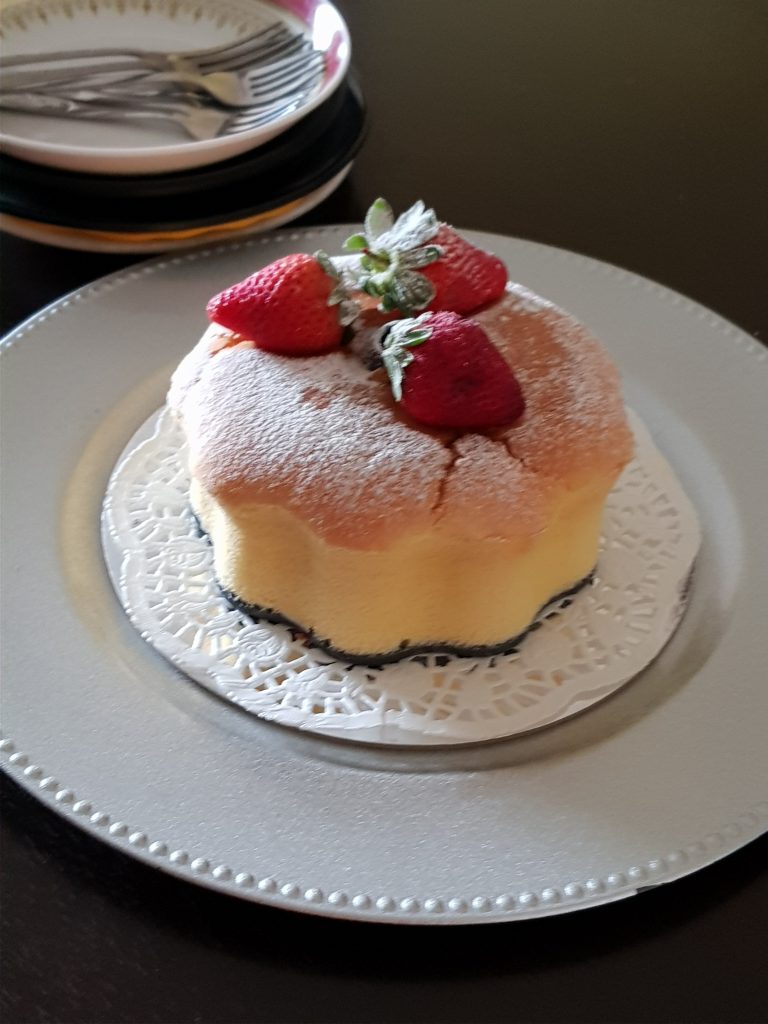 How to bake a Chiffon Cake?
There are three steps to follow to bake this Chiffon Cake . Firstly, sift All purpose flour and salt for two to three times . Melt butter and oil together and add to the flour mixture and mix well until it forms a smooth paste (roux). Secondly, beat egg yolk along with milk and vanilla extract and keep aside. Thirdly, whisk egg white, caster sugar with cream of tartar in an electric beater until it forms a stiff peak (French meringue) . These are the three main steps to follow for baking a Chiffon Cake.
How to make Chiffon Cake batter?
Firstly, add egg yolk mixture to the flour mix paste( aka roux) and combine well with a use of a ballon whisk. Next, add 1/4 of egg white (meringue )to the egg yolk batter and gently fold to lighten it up. Then gently fold egg whites into three parts until no egg yolk remain. The chiffon Cake batter is ready to bake in a preheated oven over cold bath method. Lets jump to to the step by step preparation of Vanilla Chiffon Cake.
Preparation Time : 15 mins
Baking Time : 50 mins (or) skewer inserted comes out clean
Pan Size : 6″ Scalloped Angel tube pan
Ingredients
Egg yolks – 4
Egg whites – 4
All purpose flour – 1/4 cup
Milk – 50 ml
Butter – 20 gm
Vegetable oil – 20 ml
Caster Sugar – 1/3 cup
Vanilla extract – 1 tsp
Cream of Tartar – 1/8 tsp (or) 1/2 tsp vinegar (or) 1/2 tsp lemon juice
Salt – 2 pinch
Procedure
Get ready with all the measured ingredients at room temperature.
Sift All purpose flour and salt together for two to three times and keep aside. In a gas top or microwave melt butter with oil on a low heat.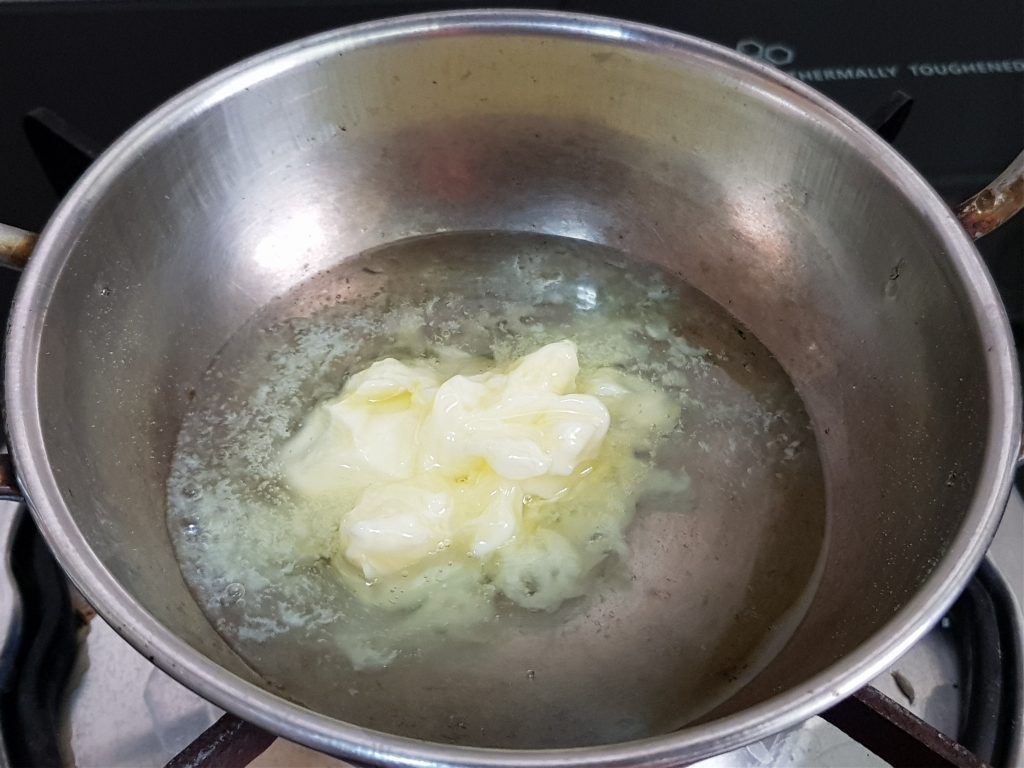 Add melted butter oil mixture to the sifted All purpose flour and whisk well with a whisk until it forms a smooth flour paste (aka roux).
In a wide dry bowl add egg yolks,milk and vanilla extract and beat well until it is well combined.
In another wide bowl add egg whites and whisk (I used electric hand mixer) until frothy. Now add cream of tarter and continue beating until fine foams form for 2 minutes.
Gradually add caster sugar little by little ( mix 3 portions )until it forms stiff peaks (French meringue) consistency. Keep it aside.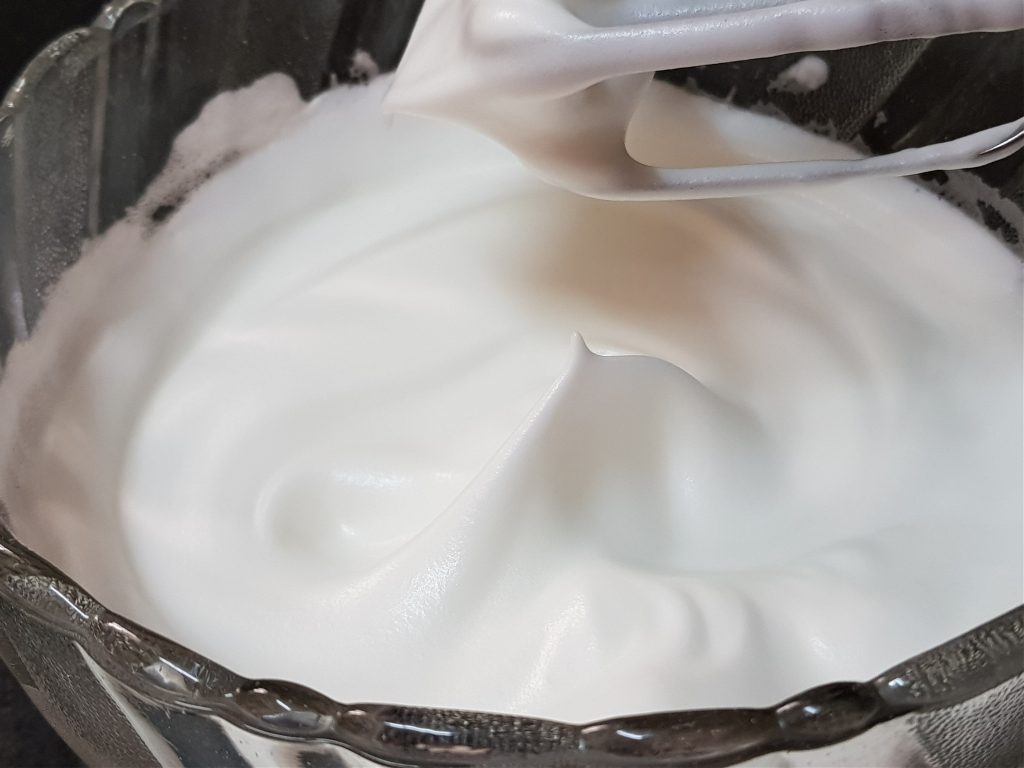 Add egg yolk mixture to the flour butter oil paste( aka roux) and mix well until it forms a smooth paste without any lumps.
Mix 1/3 of the meringue to the yolk batter and mix gently with a spatula. Add meringue little at a time( 3 parts) and gently swirl until no egg yolk streak remain or seen .
Grease only the bottom of the Tube pan and dust well with all purpose flour. Do not grease the sides or the tube of the pan as the cake batter will not be able to cling to rise and fall flat. Preheat oven to 160 °C .
Pour the cake batter in the pan and gently tap the pan side to side to release air bubbles and get even top .
Wrap the base of the tube pan with aluminium foil (purely optional) .Place the tube pan into a cookie tray holding a shallow water bath and reduce the temperature to 150 °C and bake for 50 minutes or until skewer inserted comes out clean.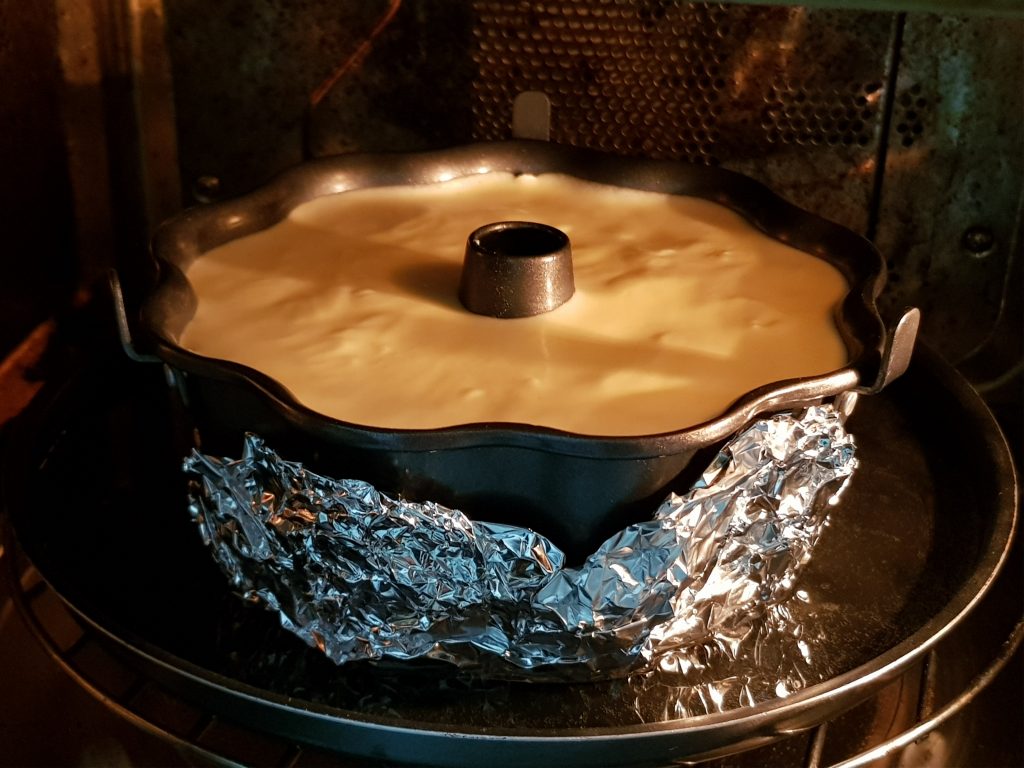 When the cake is done remove from oven and immediately invert to cool completely before unmoulding. I prefer to sprinkle some icing sugar and garnish it with whole strawberries.
Slice a piece or two and serve with a cup of coffee or milk . Serve with a cup of milk during breakfast or as a dessert with a scoop of ice cream.
Hope you like the recipe! if so, please try it out, leave your comment and thought which means a lot to me. Thank you so much for visiting my blog! Happy Baking ????.
More Cake Recipes You Might Like to Try
Basic Vanilla Cake/Easy Vanilla Cake
Eggless Butterless Chocolate Cake
Panforte/Italian Christmas Fruit and Nut Cake
No-Bake Blueberry Biscuit Mousse Cake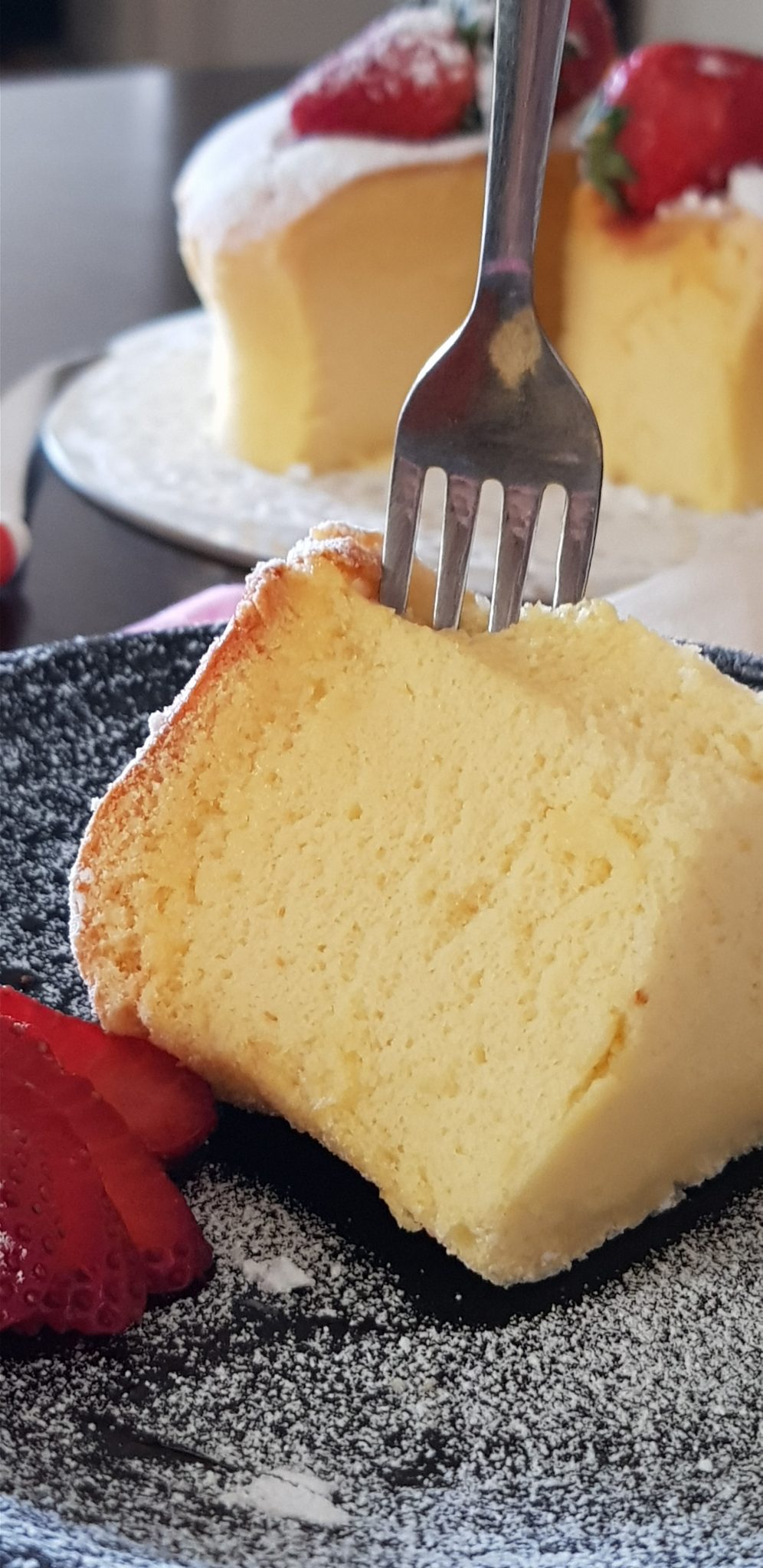 Notes
Since the meringue is the leavening agent beat the egg whites well till you achieve stiff peaks to get a nice rise and fluffy texture.
If cream of tartar is not available ,substitute with 1/2 tsp of vinegar or lemon juice.
Do not grease the sides of the tube pan. You can use any pan either round or square tins too. Make sure to grease bottom well .
Once baked ,cool it upside down (I forgot to click a picture ).
Chiffon Cake Baked in a springform round cake pan.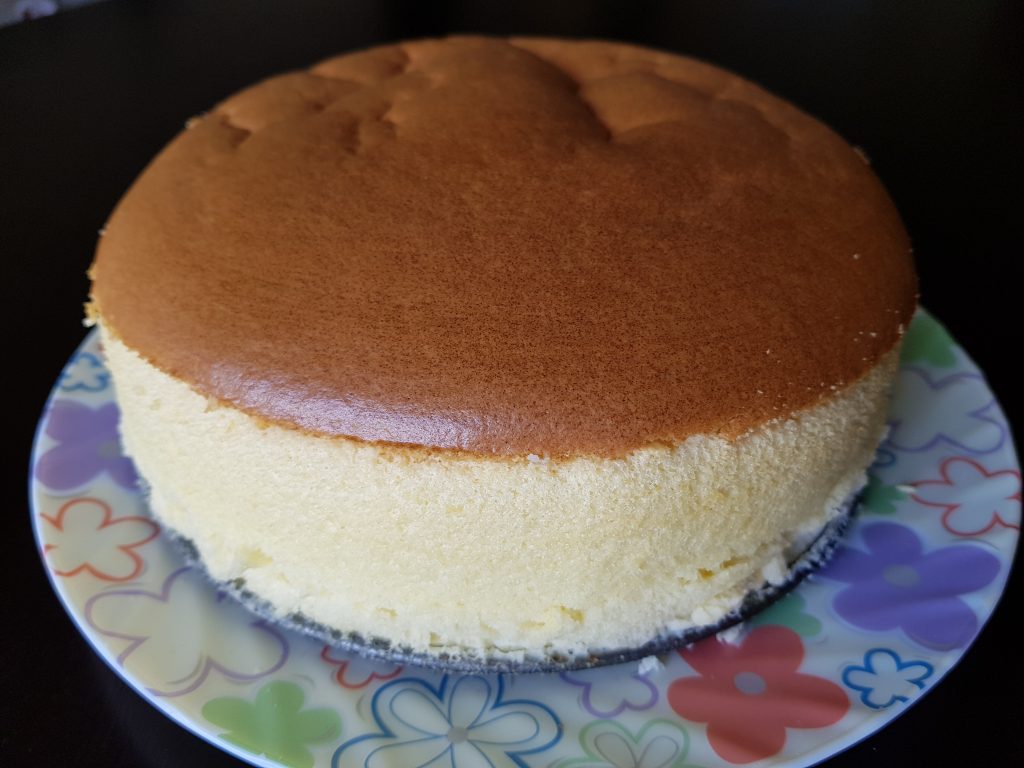 Please follow and like us: