Carrot cake Traybake is a delectable cake that is perfect for any occasion and family gatherings. Carrot cake, in particular, is an impressive yet simple recipe that is perfect for a beginner or an experienced baker.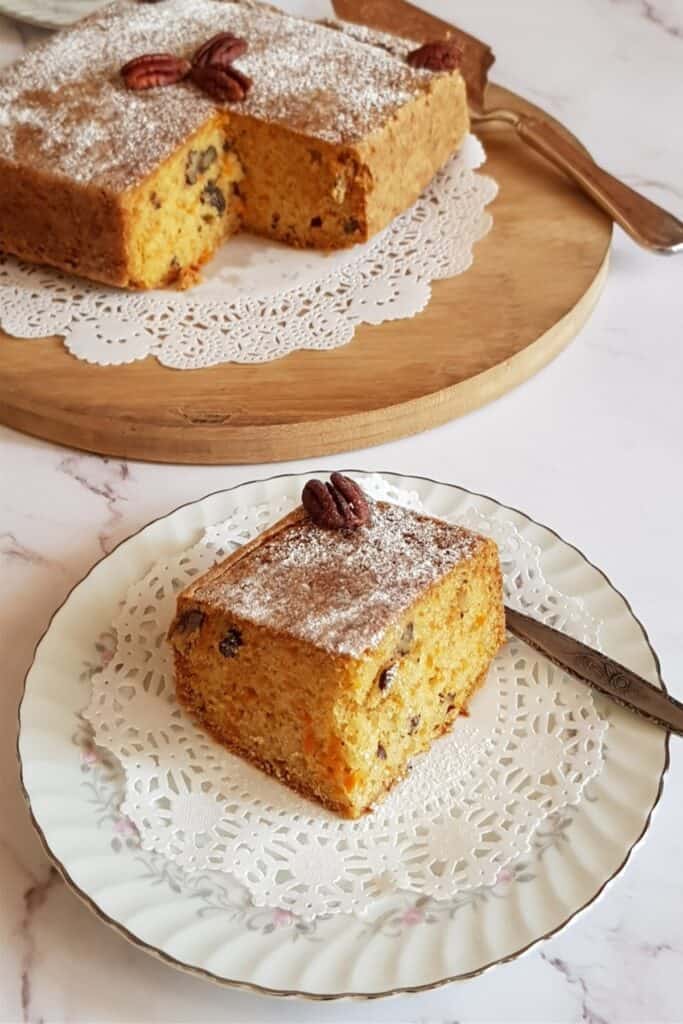 What's great about tray bakes is that they are fuss-free and easy to make within an hour. All you need is a baking tray and some common cake ingredients such as flour, sugar, carrots, and pecans, and you're practically done.
Carrot cake tray bake/ easy spiced healthy carrot cake is not only a great dessert or snack but also an excellent option for those who want to indulge in something sweet without having to spend too much time in the kitchen.
Why'll love carrot cake traybake?
It's a one-bowl easy cake to whip up in a few minutes.
It's a moist and flavoursome cake to indulge in.
The unique flavours of the spices, healthy carrots, and toasted pecans will tantalize the taste buds and leave them wanting more.
The pretty orange flecks of grated carrots add colour, sweetness, and moistness to the texture. Also, it adds an extra flavour to this simple traybake cake.
Ingredients for Carrot Cake Traybake
The measurements are given below in the recipe card. There are two tabs. One is the US cup, and the other is Metric measurements. Do click the tab according to your preference.
carrot
sugar
oil
eggs
baking powder
baking soda
pumpkin mix spice powder
vanilla extract
salt
Let's see step-by-step preparation of spiced healthy carrot cake.
Preheat the oven to 180 °C. In a baking tray, toast pecans for four to five minutes until crisp and golden brown. You can toast on a gas stovetop. Let it cool completely.
In a wide bowl, add three eggs.
Beat the eggs well. I used an electric hand beater to beat it well until it became frothy. To the egg mixture, add sugar and beat for three to four minutes until the sugar is dissolved.
Add the oil and vanilla extract and beat for a few seconds to incorporate them into the mixture.
Sieve all the dry ingredients into the wet mixture and beat( I use an electric hand beater) for a few seconds until the dry ingredients incorporate well into the wet ingredients. You can mix with a whisk or spatula, but the dry ingredients have to mix well without any lumps.
Now it's time to add the hero ingredients, carrot, and toasted (broken into pieces) pecans, and gently fold with a spatula (no more using an electric beater). (Keep it aside.)
Line and grease a square tray mould ( 20.3* 20.3* 7.6 centimetres) and dust flour twice. Pour the cake batter and tap the tray gently on the kitchen counter to get rid of the air pockets in the cake batter.
Preheat the oven to 180°C and bake it for 30 minutes, or until an inserted skewer comes out clean. Remember, every oven behaves differently. So keep an eye on the cake after 25 minutes. When the cake is baked, remove it from the oven and let it cool for 10 minutes. Then demould from the tray and remove the lining parchment paper.
How To Serve?
The aroma of freshly baked carrot cake that wafts through the kitchen is sure to be irresistible. Serve it for a weeknight treat or a special occasion, or snack on it with a cup of coffee or milk. It is perfect for breakfast and the kids' school snack boxes. Honestly, this carrot cake is the perfect way to satisfy your sweet tooth and also impress your loved ones.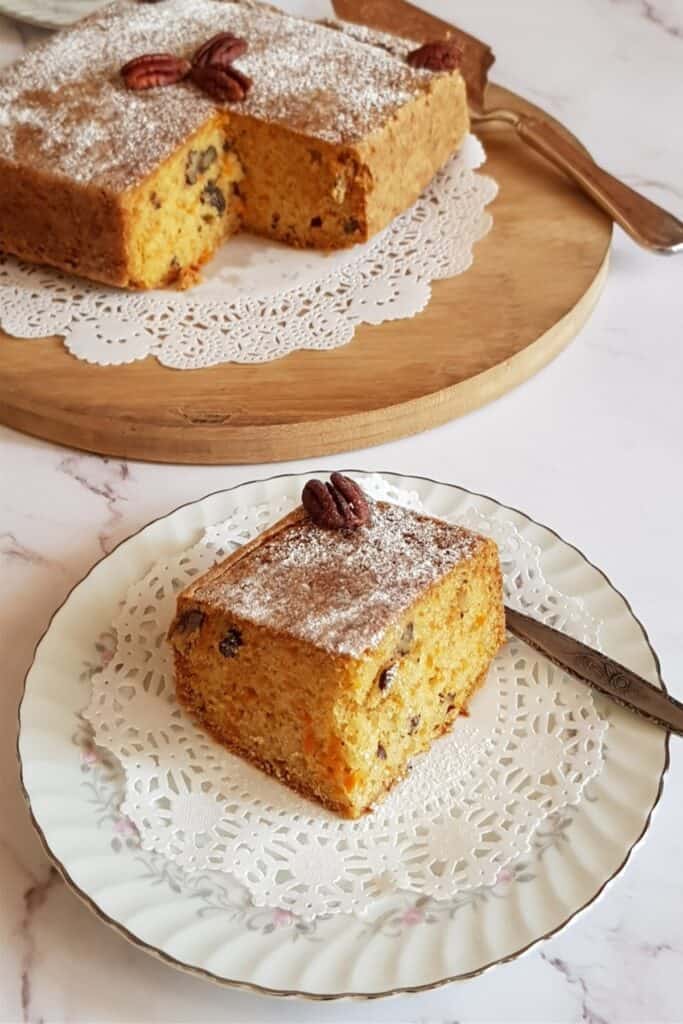 Is Cream Cheese Frosting a Must for Carrot Cake?
Yes, cream cheese frosting is perfect to frost the cake. With its warm spices and tender crumb, carrot cake is the perfect canvas for this decadent cream cheese frosting. The combination of sweet cake and tangy frosting creates a harmonious balance of flavours that is sure to please any palate. It's no wonder why cream cheese frosting and carrot cake have become a classic duo in the world of desserts.
But today I haven't frosted the cake. I just dusted it with icing sugar and decorated it with some toasted pecans.
Variations
You can swap out all-purpose flour with wheat, almond, or oat flour, which is a great way to introduce something new to your cooking routine. These flours are nutrient-dense and offer an array of health benefits, but please don't expect the same texture as this one.
Using applesauce as a substitute for some of the oil or butter can provide a healthier alternative and keep the cake moist and flavourful.
When coming to sweeteners, you can swap natural sweeteners like apple sauce, maple syrup, brown sugar, jaggery, or honey in the place of sugar.
Walnuts are the best choice to substitute for pecans. Secondly, the cashew nut is also good. I would suggest only these two: if you run out of nuts in your pantry, then omit nuts.
I used pumpkin pie mix, which consists of cinnamon, nutmeg, allspice, ginger, and clove. You can swap it with cardamom powder or any spice like cinnamon or dried ginger powder. Adding vanilla extract adds an extract combination flavour to the carrot cake.
How to store the cake?
Wrap the carrot cake tightly with cling film or aluminium foil or in a freezer bag. You can freeze it as a whole cake or slices. It is purely optional. Before serving, thaw it to room temperature and microwave it for a few seconds. If you don't have a microwave, lay it on the kitchen counter for a few extra minutes.
If you've tried this recipe, don't forget to rate the recipe and let me know your feedback in the comments below. I love hearing from you! Happy Baking!
More Cake Recipes You May Like To Try
Eggless Whole Wheat Black Grape Cake
Red Velvet Cake With Sugar Glaze Frosting
Cherry and Coconut Loaf Cake
This cherry and coconut cake is sweet, soft with tender crumbs, and insanely delicious with studded cherries and aromatic sweetened coconut.
Check out this recipe
Carrot Cake Traybake/ Easy Spiced Healthy Carrot Cake
Carrot cake Traybake is a delectable cake that is perfect for any occasion and family gatherings. Carrot cake, in particular, is an impressive yet simple recipe that is perfect for a beginner or an experienced baker.
Equipment
square tray
( 20.3* 20.3* 7.6 centimetres )
Ingredients
2

cups

all-purpose flour

3

egg

1⅓

cup

sugar

1

cup

oil

( flavourless oil )

2½

cup

carrot

( fresh grated carrot)

½

cup

pecans

( toasted and broken into pieces )

1½

teaspoon

baking powder

1

teaspoon

baking soda

¾

teaspoon

pumpkin pie spice mix

¼

teaspoon

salt
Nutrition
Serving:
1
serving
Calories:
381.8
kcal
Carbohydrates:
41.4
g
Protein:
4.2
g
Fat:
23
g
Saturated Fat:
2
g
Polyunsaturated Fat:
6.5
g
Monounsaturated Fat:
13.9
g
Trans Fat:
0.1
g
Cholesterol:
40.9
mg
Sodium:
227.3
mg
Potassium:
140.3
mg
Fiber:
1.7
g
Sugar:
23.7
g
Vitamin A:
4516.6
IU
Vitamin C:
1.6
mg
Calcium:
50.6
mg
Iron:
1.4
mg
Please follow and like us: