Tapioca/Cassava Chips is a snack food widely popular in India and other Asian countries like Sri Lanka and Indonesia. This is a root variety highly rich in starch.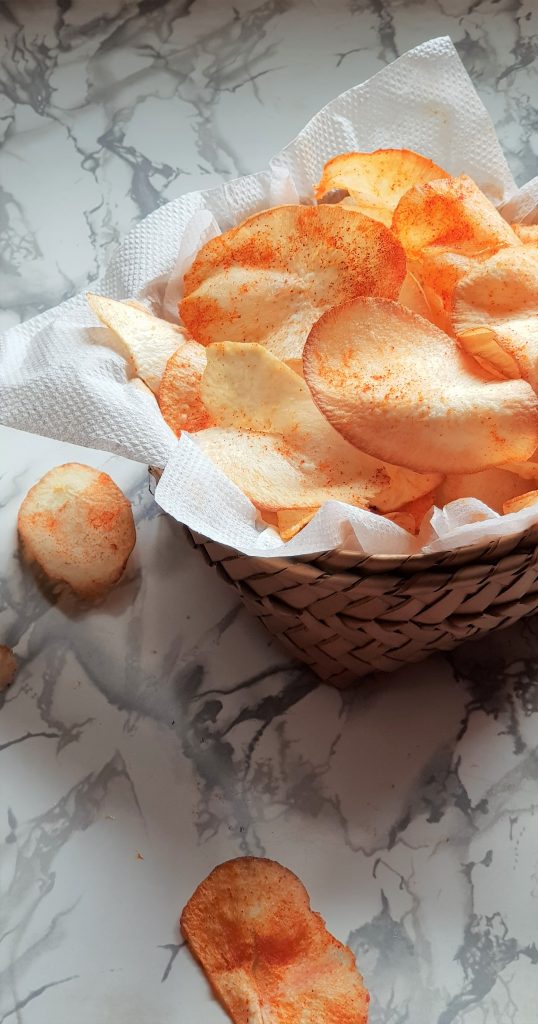 Tapioca/Cassava chips is a simple snack and easy to prepare in few minutes with easily available ingredient in your pantry. It all needs oil to fry and chilli powder and salt for seasoning. Yes, just four ingredients quickie snack made at home, is perfect to munch any time for all.
My Love For Tapioca/Cassava Chips
This is my all-time favourite chips since childhood. I can still remember, I buy these chips from a vendor near the Train station in my place. The vendor used to pack in a paper cone with a mild seasoning of salt and chilli powder. He also sells masala vada and masala bonda and always there will be a small crowd around his street cart. He sells only few hours, and he is popular for his mini sized masala vada ????. My friends who read this blog post will acknowledge my words!
How to make Tapioca/Cassava Chips?
Tapioca/cassava is a root and it is to be cleaned well to remove mud completely. So wash the roots in running tap water and remove the dirt. Next, to remove the skin, score the outer thick skin with a knife. Then, remove the skin with the knife or with your hands. I prefer to remove the skin with the hands. Heat oil on a medium heat and slice the tapioca/cassava and fry until sizzling oil subsides. Transfer the chips on to a tissue paper and let it cool for a while. That's it, crispy crunchy chips is ready. Season it with chilli powder, and salt and store it in an airtight container. You can munch this delicious crispy chips anytime.
Variations of Tapioca/Cassava Chips
You can slice tapioca in any slicer or can cut into finger chips. I prefer a slicer to make my job easy! For heat, you can use chilli powder or pepper powder with an adequate sprinkle of salt. Lets jump to the step by step preparation of Tapioca/Cassava chips!
Step by Step Preparation Of Tapioca/Cassava Chips
Choose tender Tapioca for best taste and for easy slicing. Clean well to get rid of mud on the skin.
Remove skin by scoring length wise and peel off the skin or can remove with peeler.
I'm using a traditional old slicer of my Amma's, which has the option of adjusting thickness of slices.
Slice Tapioca/Cassava in a hand slicer to required thickness.
After slicing all the tapioca/cassava, keep it aside. In a wide kadhai/wok heat oil on medium flame. Drop tapioca/cassava slices gently into the oil and stir gently. Stirring helps slices to separate from sticking to each other.
When the sizzling oil sound subsides, and chips edges turn golden brown, transfer to an absorbent tissue and wait to cool completely.
Sprinkle chilli powder and salt to taste and toss it up gently to get evenly distributed onto the chips.
Crunchy, crispy delicious Tapioca/Cassava chips is ready to serve as an evening snack along with coffee or tea or can munch it any time.
Few Snack Recipe You Might Like To Try
Banana blossom Vada/Vazhaipoo Vada
Notes
Always buy tender Tapioca/ Cassava for the best taste .
Slice thin to achieve crispy wafers.
You can add any seasoning as per your palates preference.
Tapioca/Cassava Chips
Tapioca/Cassava Chips is a thin crispy crunchy wafer that can be munched at anytime.
Ingredients
1

kg

Tapioca/Cassava

½

litre

Sunflower oil

2

tablespoon

Chilli powder

Salt to taste
Notes
Always buy tender Tapioca/ Cassava for the best taste .
Slice thin to achieve crispy wafers.
You can add any seasoning as per your palates preference.
Nutrition
Serving:
1
people
Calories:
5
kcal
Carbohydrates:
0.8
g
Protein:
0.2
g
Fat:
0.3
g
Saturated Fat:
0.1
g
Sodium:
26.2
mg
Potassium:
31.2
mg
Fiber:
0.6
g
Sugar:
0.1
g
Vitamin A:
474.4
IU
Vitamin C:
0.1
mg
Calcium:
5.3
mg
Iron:
0.3
mg
Banana Blossom Vada
Banana Blossom Vada/Vazhaipoo Vadai Recipe is passed down by my Great Grandmother and is a healthy snack to munch.
Check out this recipe
Please follow and like us: