French macaron recipe is easy if you follow all the tips given in the post. It is a delicious dainty cookie loaded with flavoursome mango and toasted coconut filling.
What is a French Macaron?
A macaron or French macaron is a sweet meringue-based confection. It is made with egg white, icing sugar, caster sugar, almond meal, cream of tartar, and food colouring.
Difference between French Macaron and Macaroon
People often get confused between macarons and macaroons. Both are two different cookies, which are different in taste and texture. Let me share my thoughts about it. Macarons are delicate sandwich cookies with a slight crunch and overall chewy texture on bites through the dessert. Whereas macaroons are sweet, moist, and chewy inside and crispy coconutty exterior outside.
My love for Macarons
I'm a home baker who bakes almost everything. I came to know about macarons just seven years back when I was googling for something. Oh Gosh, I fell in Love at first sight of this finicky cookie. For more than two years, I was searching a baker teacher to teach me. Alas, I met one such sweet person who taught me this French cookie hands-on. From there, I started exploring different flavours and also customized tastes (sugar level) and flavours.
These French macarons are a feast for the eyes and palates. They look so pretty, and you can play with colours and flavours. My love for this French cookie is endless. I started baking for all occasions and bake for my Daughter in law and courier to the US. She loves macaron like me and suggests some flavours too. Though they had tasted The famous Laduree Paris macarons, they feel my macarons are the best. Thanks to my baker teacher. If you learn to bake these beauties, read the post in detail to nail this finicky cookie. Yes, I say it is an easy recipe if your basic techniques are perfect.
Ingredients need for making French macaron recipe.
As I already said, you can play with the flavours and colours of macarons as per your visual and palate's preference. Today, my go is a Mango macaron with toasted coconut buttercream and mango jam filling. Isn't interesting? Yes, it is a must-try flavour! Trust me you, are going to love it!
Mango Macaron with Toasted Coconut Butter Cream and Mango Jam Filling
almond Meal
egg white
icing sugar
caster Sugar
cream of Tartar
alphonso Mango Premium oil soluble flavour (FAB)
Toasted Coconut Butter Cream Filling
shredded Coconut
butter
icing Sugar
toasted Coconut Premium oil soluble Flavour(FAB)
homemade Mango Jam
Important tips to achieve perfect French macaron recipe.
Before going to the step-by-step preparation of making French macarons, you should understand the technique thoroughly to perfect macarons. Though it may look simple, it is not an easy dessert to nail on the first go. A teacher can teach once, and it is your self-interest to correct the mistakes and have the Never give up attitude.
1. Measurement of ingredients is vital for this recipe.
I believe and solely depend on the weighing scale for this recipe. I have never tried cup measurement for French macarons. So invest in buying a weighing scale to perfect these dainties.
2. Secondly, a good stiff meringue gives perfect feet and no hollow macarons.
You should know when to stop beating the meringue, and there is no fixed time for beating a meringue. It is only by experience you will learn this technique.
3. Thirdly, mixing the macaron batter(macaronage technique).
It is the step where the dry ingredients (almond meal and icing sugar) get to mix in the meringue.
How do you know a perfect consistency?
You will know when it has a lava-like batter, forming a thick ribbon that slowly flows when drizzled from your spatula. Another technique is following a figure "8" test. Take enough of the batter in a spatula and drizzle off the spatula and form eight shapes. It is where you should stop folding the batter. It is the perfect consistency to pipe your macarons.
4. Finally, the oven temperature.
Accurate oven temperature is crucial for perfecting your macarons.
Every oven is different, and it is normal for the temperature to vary a few degrees Celcius which could break your macarons. That's why I recommend buying an oven thermometer. When I bake in an OTG, I use an oven thermometer to check the accuracy of the temperature. But I feel comfortable in baking microwave convection oven where the temperature is always perfect and doesn't vary.
Variations in making French macaron recipe.
You can try any colour for the macaron shells and any filling of your choice, like chocolate ganache, cream cheese filling, fruit jam, compote, etc
Some cookies you may like to try
Eggless Butter Cookies/Biscuits
Mint Biscuits/Mint Biscuits(Eggless)
Coconut and Pecan Cookies(Eggless)
Vanilla and Chocolate Twin Custard Cookies
Eggless Tutti Frutti Cookies(Eggless)
Cranberry Chocolate Chip Cookies
Vanilla Custard Powder Cookies(Eggless)
Chocolate Cream Sandwich Cookies
Quick Simple Coffee Cookies(Eggless)
Let's see the step-up step pictorial preparation of French macaron.
Measure all the ingredients on a weighing scale and get ready with all the ingredients. Separate egg whites from yolk perfectly.
Sift Almond meal along with icing sugar to discard any lumps. Keep it aside.
Beat egg white in an electric hand beater until frothy with a pinch of cream of tartar.
Add caster sugar little by little until it is completely dissolving. Maintain the speed of the hand beater to medium level during this process.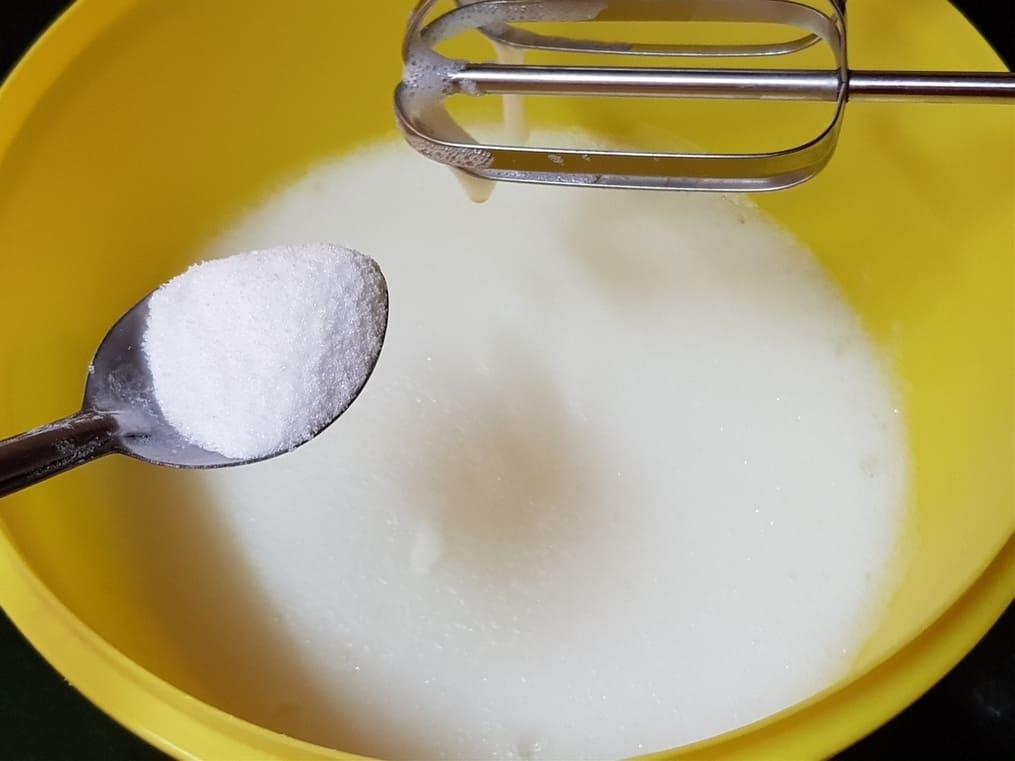 Beat for 8 to 10 minutes until you get a stiff, stable shiny meringue
To it, add Alphonso Mango oil-soluble flavour and gently fold.
. Add Almond meal icing sugar mixture to the meringue and fold gently.
Gently fold until it combines well with the meringue, as shown in the picture.
To it, add golden yellow colour gel and fold the macaronage gently until you reach the figure of eight consistency (refer notes).
Transfer the batter into a piping bag fitted with a round tip.
Pipe 1.5-inch rounds on a tray lined with parchment paper. Now tap the baking tray three times to pop any air bubbles trapped in the macaron shells. Use a toothpick to break the air bubbles to get a smooth top macaron shell.
Rest the shells for an hour or two until skin forms. To check, touch the top of the macaron shell with a finger. It should be dry and non-sticky.
Bake at 125 deg C for 17 to 20 mins ( i bake in a microwave convection oven). Check the shells every 30 seconds after 17 minutes. If the shells stuck to the parchment paper, wait for some more seconds to bake. When the baking process is complete, let the macaron shell cool thoroughly
Method for Making Toasted Coconut Butter cream filling.
Toast shredded coconut for 10 mins in the oven until coconut moisture evaporates and completely dry. Let it cool and keep aside.
In a dry bowl add butter and whisk to a creamy consistency. To it add icing sugar and beat well until it is well combined.
Add toasted coconut oil-soluble flavour (FAB) and toasted coconut to the Buttercream and gently fold.
Transfer the toasted coconut buttercream filling into a piping bag to fill the macaron shells.
Assembly
Before filling the macaron shells, pair them according to their sizes.
Pipe a Dollop of Homemade Mango Jam in the center and pipe the Toasted Coconut Butter Cream in a star nozzle around the jam.
Yummy delectable dainty French macarons are ready to consume.
Serving Suggestion
Serve macarons as a dessert for all parties and gatherings, and also, you can munch one or two for an evening cuppa coffee.
How to store French macaron?
Store macarons in an airtight container, and it stays good for six to seven days at room temperature. If you make big batches, keep them in the fridge, and they stay fresh for up to seven weeks.
I hope you like the recipe! If you like it, rate the recipe and write your feedback which means a lot to me. I always love to hear from you guys and respond as soon as possible. Happy Baking!
Notes
1. MEASUREMENT OF INGREDIENTS IS VITAL FOR THIS RECIPE.
2. SECONDLY, A GOOD STIFF MERINGUE GIVES PERFECT FEET AND NO HOLLOW MACARONS.
3. THIRDLY, MIXING THE MACARON BATTER(MACARONAGE TECHNIQUE).
4. FINALLY, THE OVEN TEMPERATURE.
French Macaron Recipe
This easy French macarons recipe is easy if you follow all the tips given in the post. It is a delicious dainty cookie loaded with flavoursome mango and toasted coconut filling.
Equipment
Microwave Convection Oven

Electric Hand Beater

Wide bowl

silicon spatula
Ingredients
90

g

almond meal

(store bought)

84

g

egg white

80

g

icing sugar

30

g

caster sugar

1

pinch

cream of tartar

2

drops

alphonso Mango Premium oil soluble flavour
Toasted Coconut Butter Cream Filling 
½

cup

shredded coconut

100

g

butter

( room temperature)

1

cup

icing sugar

( confectioners sugar)

2

drops

Toasted coconut premium oil soluble flavour

¼

cup

HomemadeMango Jam
Instructions
METHOD FOR MAKING TOASTED COCONUT BUTTER CREAM FILLING.
ASSEMBLY
Pipe a Dollop of Homemade Mango Jam in the centre and pipe the Toasted Coconut Butter Cream in a star nozzle around the jam. 
Notes
1. MEASUREMENT OF INGREDIENTS IS VITAL FOR THIS RECIPE.
2. SECONDLY, A GOOD STIFF MERINGUE GIVES PERFECT FEET AND NO HOLLOW MACARONS.
3. THIRDLY, MIXING THE MACARON BATTER(MACARONAGE TECHNIQUE).
4. Finally the oven temperature ( read the post carefully )
Nutrition
Serving:
2
piece
Calories:
284.4
kcal
Carbohydrates:
30.2
g
Protein:
3.8
g
Fat:
17.7
g
Saturated Fat:
8.6
g
Trans Fat:
0.4
g
Cholesterol:
26.9
mg
Sodium:
122
mg
Potassium:
60.2
mg
Fiber:
1.4
g
Sugar:
27.4
g
Vitamin A:
312.4
IU
Vitamin C:
0.1
mg
Calcium:
28.5
mg
Iron:
0.6
mg
Linzer Cookies Recipe
Linzer cookies or Linzer Tarts are two buttery cookies sandwiched together with fruit preserves or jam.
Check out this recipe
.
Please follow and like us: