Homemade Mango Jam is a simple recipe made within few minutes with available ingredients in your pantry. It all needs only a few ingredients to prepare this no preservative jam at home. Follow the easy step-by-step preparation to nail this easy recipe.
Homemade Mango Jam is a simple recipe made within few minutes with easily available ingredients in pantry. Mango "The King of Fruits" is loved by all in any form like whole fruit, Juice,Smoothie, Sweet pickle,Mango bar, etc. Jam or Spread is one easy preparation to preserve at home with less cost compared to expensive store bought Jams. Easy preparation without artificial preservative with organic fruit and only three ingredient is all needed to make this yummy Homemade Mango Jam.
Neelam is the Variety of mango I used for preparing this delicious Jam. This breed is easily available in South India and it is rich in pulp with no strings. Choosing any pulpy mango variety either expensive or cheap at cost is individuals choice. Let's jump to the recipe with easy step by step preparation .
Preparation Time : 15 mins
Cooking Time : 30 to 35 mins
Serves : 25 ( 2 tbsp each)
Ingredients
Mangoes (Neelam) – 5 ( 2 1/2 cups mango pulp)
Sugar – 1 cup heaped
Lemon juice – 1 tbsp
Procedure
First wash Mangoes and pat dry on a tissue paper.
Cut mangoes as shown and scoop out the pulp with help of a teaspoon.
Scoop all the mangoes and make into puree by running in an electric mixer. Nearly 2 1/2 cups mango pulp yielded out of 5 mangoes
In a heavy bottomed pan on a medium heat add Mango pulp and stir for two minutes
Now add sugar and stir continuously until sugar dissolves completely and turns into glossy mixture.
Now reduce the flame to low heat and cook the mixture until it changes colour and slightly started to swirl the pan.
Add freshly squeezed lemon juice to the mixture. As mango is low in Pectin, lemon juice acts as a natural preservative for the Jam.
It almost take to cook 30 to 35 minutes to achieve the rolling ball consistency. To check the consistency add a drop or two of Jam mixture in a bowl of water and, if the mixture stays as it is and roll in the water without dissolving , Mango Jam is ready.
Remove from stove top and let it cool completely .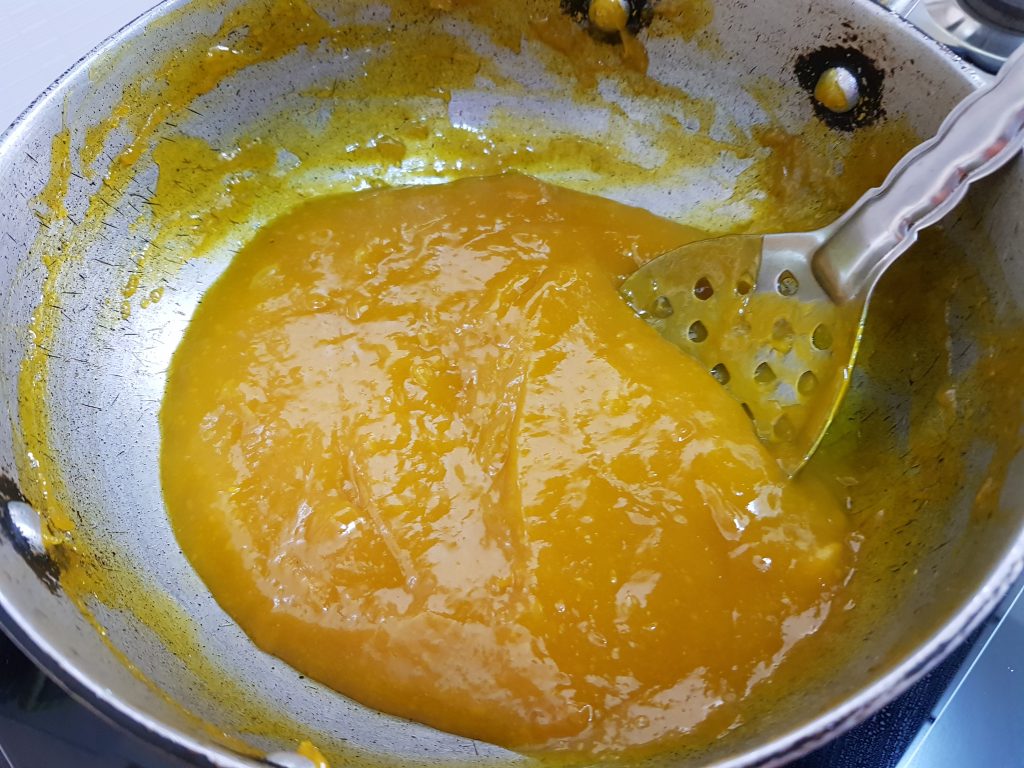 In a sterilized Jar fill the Mango Jam up to the rim of the Glass Jar and turn it upside down and leave it like that for few hours before storing in a cool and dry place. Turning the filled Jam bottle up side down creates vacuum and helps in preserving the Jam for longer period.
The Jam will be good for about a year if unopened. Once opened store in the fridge.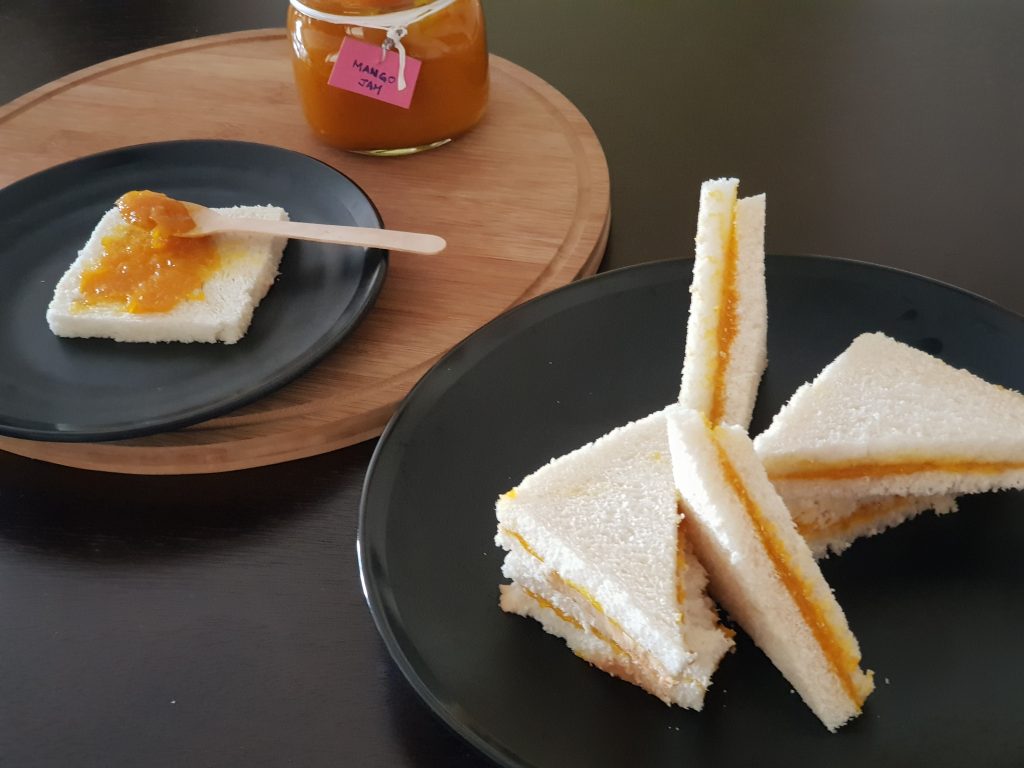 Healthy Yummy with natural preservative Mango Jam can be served as a spread on Breads,Rotis or according to individuals taste.
Hope you like the easy three ingredient Homemade Mango Jam recipe! If so, please try it out, leave your valuable comments and feedback, which means a lot to me. Thanks you so much for visiting by the site!
Notes
When choosing Mangoes pick pulpy ones or with less strings.
Use organic lemon because it contains natural pectin which helps as a preservative.
Do not reduce the quantity of sugar and lemon juice .
Please follow and like us: