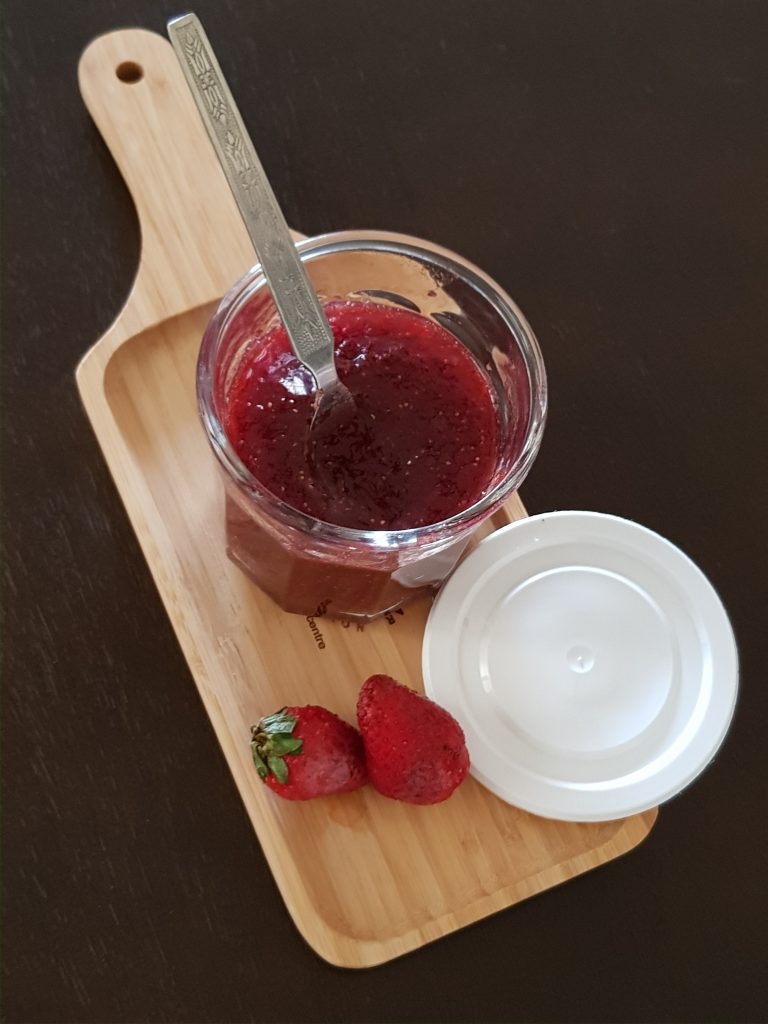 Homemade Strawberry Jam recipe needs only three ingredients and they are ,Strawberries,sugar and lemon . It just needs only 20 minutes to prepare this small batch of scrumptious jam recipe . When one can make jam with minimal ingredients easily available in pantry ,Why go for store bought jam? Yes,store bought jams are good with preservatives and stays for long. But,when you make jam with fresh produce without pectin or any artificial preservatives, I feel so satisfied with my Homemade strawberry jam. The taste is so yum and I'm happy I provide good quality food for my family .
I make jam with all seasonal fruits available in market. You can try my Homemade Mango Jam,which is also made with the same process. Wait for my next mixed fruit jam in my blog ! As I mentioned earlier ,this is a small batch strawberry jam ,which is enough for two for a month. You can double or triple the recipe ingredients for more and enjoy few months.
How to make Homemade Strawberry Jam?
Wash strawberries and wipe with a kitchen towel. Let it completely dry. Blend strawberries in an electric mixer or blender into puree consistency. In a non stick or heavy bottomed pan ,add the strawberry puree and let it cook for five minutes. to it add sugar and cooking until the jam starts to swirl in the pan. Test the consistency by adding jam in a plate of water ,which will be seen in the step by step pictorial preparation. When it is done,cool it completely and store it in an air tight container.
Lets not wait further and jump to step by step pictorial preparation of Strawberry jam preparation within 20 minutes.
Preparation Time : 5 mins
Cooking Time : 20 mins
Servings : 15 to 20
Ingredients
Strawberry – 1 3/4 cup strawberry puree
Sugar – 1 cup
Lemon juice – 2 tsp
Procedure
Wash strawberries and pat dry on a kitchen towel. Add the berries in an electric mixer and grind to puree consistency.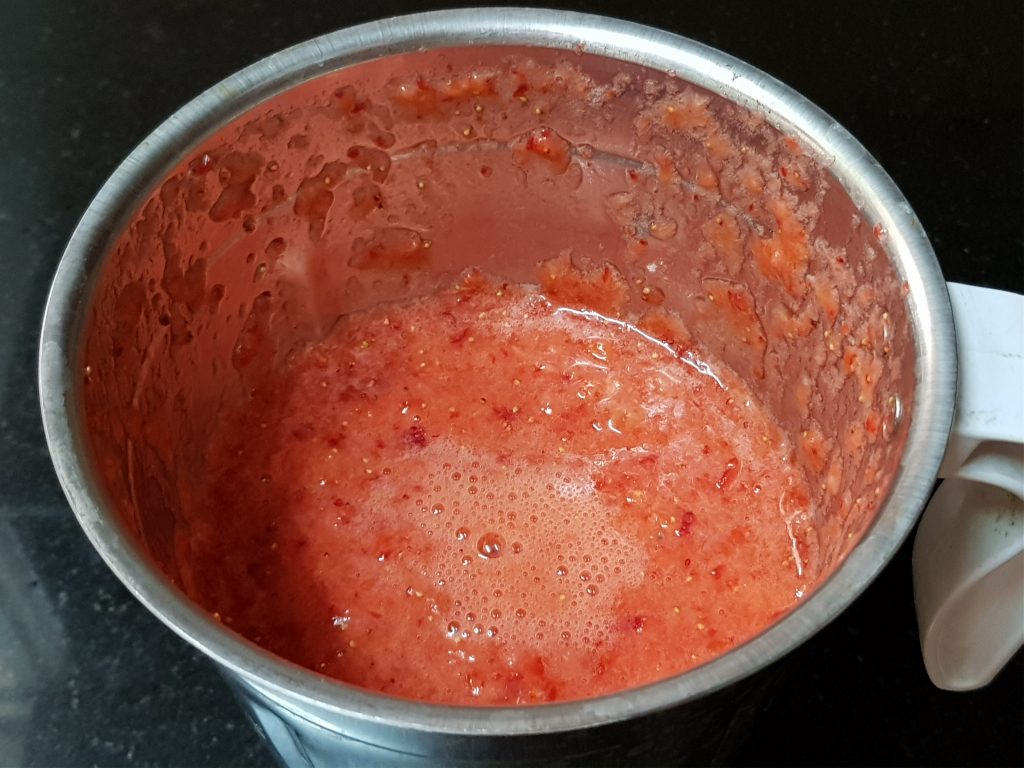 Add Strawberry puree in a nonstick pan or heavy bottomed pan on a medium heat . To it add sugar and stir until it dissolve completely.
Stir continually and bring strawberry puree to boil.
Stir regularly for 15 to 20 minutes to avoid jam burn to the bottom of the pan.
Add freshly squeezed lemon juice to the mixture .It acts as a natural preservative for the strawberry jam.
How to check the consistency of Homemade Strawberry Jam?
The jam is almost done. To check the perfect consistency,add a drop or two of jam mixture in a small plate of water. If the jam mixture stays as it is without dissolving , you achieved the perfect consistency and Homemade Strawberry Jam is ready . Remove from stove top and let it cool completely.
How to store Homemade Strawberry Jam?
In a sterilized Jar fill Strawberry Jam up to the rim of the Glass Jar and turn it upside down and leave it for few hours before storing in a cool and dry place. Turning the filled Jam bottle up side down creates vacuum and helps in preserving the Jam for longer period.The Jam will be good for months ,if it is unopened. Once opened, store it in the fridge . Use clean dry spoon for using the jam.
Yummy delectable vibrant Homemade Strawberry jam is ready to consume with Scones ,breads or store bought buns ,breads etc. Just spread a spoonful of jam on a slice of scones or bread and devour and I bet kids would eat as it is and do not wait for a slice of bread etc.
Hope you like the recipe ! if so, please try it out ,leave your feedback which means a lot to me. Thank you so much for visiting my blog ! Happy Cooking????.
Bread Recipes You Might Like To Try
Sweet Buttermilk Bread /Eggless Bread
Sandwich Bread (APF/WWF) Eggless Bread
Whole Wheat Bread/ Eggless Bread
Jam Recipe You Might Like To Try
Notes
Wash and pat dry strawberries well.
You can blend or you can mash strawberries with a potato masher.
Do not reduce the quantity of sugar and lemon juice.
You can add lemon zest along with lemon juice too. It gives a beautiful tint to Strawberry jam.
Always use dry spoon to consume jam.
Please follow and like us: