Homemade mixed fruit jam recipe is amazingly delicious with the varieties of fruits in it. It contains a lot of fruits like apples, banana, mango, chiku, and orange. I always make this jam, when my fruit basket is loaded with a variety of fruits. To make this simple recipe, it needs any mixed fruits, sugar and lemon. I added little food colour gel to make it vibrant and believe me, this recipe is free from preservatives. As, I say always, making jam with available seasonal produce makes me happy that I provide quality food for my family.
This homemade mixed fruit jam needs only few minutes to prepare and you can double or triple the recipe for more people. There is no particular fruit is needed to make this jam. Available fruits, either two varieties or three are most sufficient to make this scrumptious jam. This homemade mixed fruit jam goes well with any bread variety, topping for cakes and many more desserts.
How to make Homemade Mixed Fruit Jam?
Since, it is mixed fruit jam there is no particular quantity of fruits in gm or number. I measure the fruit puree in cups and sugar is added according to measured fruit puree.
Firstly, wash fruits and pat dry. Peel the fruit skin neatly and chop fruits into small pieces. Blend the fruit pieces to puree consistency and keep it aside. Secondly, in a heavy bottom kadhai or pan, add sugar and little water and stir well. Let sugar dissolve completely. Now add mixed fruit puree and stir well to avoid sticking the pan. Thirdly, add little yellow colour gel (it is purely optional) and mix well to get even colour to the fruit mixture. Finally, stir for 15 to 20 minutes and add freshly squeezed lemon. The jam starts to swirl in the pan. Test the consistency by adding jam in a bowl of water, which will be seen in the step by step preparation. When it is done, cool it completely and store it in an airtight container.
Lets jump to the step by step preparation of Homemade Mixed Fruit Jam preparation within 20 to 25 minutes.
Preparation Time : 5 mins
Cooking Time : 20 to 25 mins
Servings : 20 to 25
Ingredients
Mixed fruit Pulp – 4 cup (mango, banana, apple, mandarine, chiku)
Sugar – 2 cup
Lemon juice – 2 1/2 tsp
Yellow food gel colour – little
Procedure
Wash all the fruits and pat dry on a kitchen towel.
Chop all the fruits into small pieces and blend in an electric mixer to puree consistency.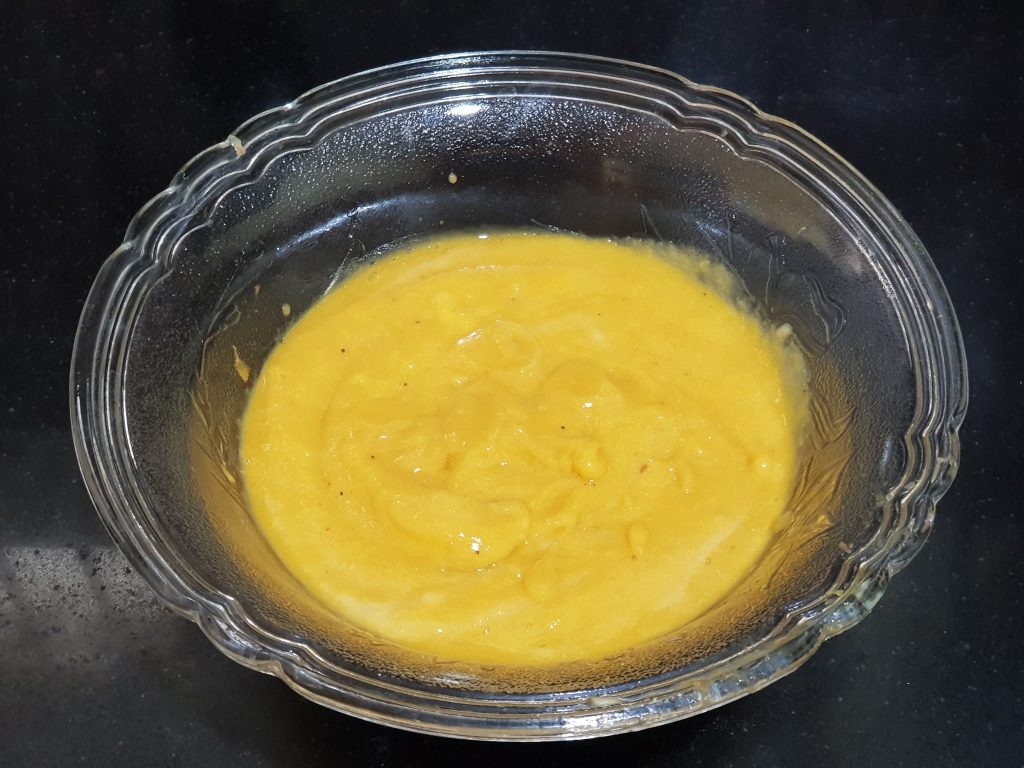 In a heavy bottomed kadhai or pan add sugar and little (2 tbsp ) water on a medium heat.
Then add mixed fruit puree and gently stir continuously until it starts to boil.
When the mixture starts to thicken add little food colour gel and mix evenly to get uniform colour.
Add lemon juice to jam mixture. It acts as a natural preservative for Homemade Mixed Jam .
How to check the consistency of Jam?
The jam is almost ready. To check the perfect consistency, add a drop or two of jam mixture in a small bowl of water. If the jam mixture stays as it is without dissolving, the perfect consistency of Homemade mixed fruit Jam is ready. Remove from stove top and let it cool completely.
Homemade Mixed Fruit Jam is ready to consume with bread, flat breads or can have as it is.
How to store Homemade Mixed Fruit Jam?
In a sterilized Jar fill Jam up to the rim of the Glass Jar and turn it upside down and leave it for few hours before storing in a cool and dry place. Turning the filled Jam bottle upside down creates vacuum and helps in preserving the Jam for longer period. The Jam will be good for months, if it is unopened. Once opened, store it in the fridge. Use clean, dry spoon for using the jam.
Yummy delectable vibrant Homemade Homemade mixed jam is ready to consume with homemade Scones, breads or store bought buns, breads, etc. Just spread a spoonful of jam on a slice of scones or bread and devour and I bet kids love to eat without any fuss ????
Jam Recipe You Might Like To Try
Bread Recipes You Might Like To Try
Sweet Buttermilk Bread /Eggless Bread
Sandwich Bread (APF/WWF) Eggless Bread
Whole Wheat Bread/ Eggless Bread
Notes
You can make use of any fruits available in your kitchen counter.
Wash and pat dry all fruits and chop into small pieces.
You can blend or you can mash fruits with a potato masher or electric blender.
Do not reduce the quantity of sugar and lemon juice.
You can use food colour or can leave as it is. It is purely your choice.
You can add lemon zest along with lemon juice too. It gives a beautiful tint to mixed fruit jam.
Always use dry spoon to consume jam.
Please follow and like us: