Linzer cookies or Linzer Tarts are two buttery cookies sandwiched together with fruit preserves or jam. These cookies are rich, buttery, crumbly and melt in the mouth texture.
These cookies are traditionally made with ground nuts, sandwiched with jam or preserves and finally dusted with confectioners sugar. Here, I have added almond meal to the regular shortbread ingredients, which gives richness to this jam peeked cookies. The cookies top layer has a distinct small round hole, where fruit preserves or jam peeks out through the cutout hole. This looks absolutely pretty and loved by all and also it is perfect for Christmas time and holidays.
Almond Meal
Using of almond meal in the cookie adds richness to the cookie. You can use whole almonds or sliced almond for this cookie dough. I use whole almonds and do not toast too. And I pulse it in an electric mixer grinder to a coarse (not chunky bits) powder. I don't toast almond or blanch too. You can visibly see the almond skin in close up picture.
What kind of Fruit preserves or Jams to Fill Cookies?
Nice bright filling like strawberry jam or Raspberry jam goes very well with a hint of tartness to the cookies. I always fill with Homemade Mango Jam, Homemade Strawberry Jam, Homemade Mixed Fruit Jam. You can fill the cookies with any jam you have on hand. Plain cookies as it is would be crisp and crumbly and when you fill the jam it becomes soft in texture. So if you prefer a crisp cookie, sandwich with jam before serving.
Why to Freeze or Refrigerate Cookie Dough?
After mixing the cookie dough refrigerate for 20 to 30 minutes. After cutting to desired shape, again refrigerate for 15 to 20 minutes. It helps to retain perfect shape during baking. If you have no time, you can freeze for 10 minutes and bake.
Let's see how to make Linzer Cookies in step by step preparation
Gather all the ingredients at room temperature.
Pulse whole Almond to coarse powder and add to all purpose flour and salt and sift together and keep aside.
Beat room temperature butter and caster sugar in an electric hand beater until light and fluffy. To it add milk and vanilla extract and gently mix the butter mixture.
Then add all purpose flour and almond meal mixture little at a time until it is evenly mixed to form dough consistency.
Chill the cookie dough for 20 to 30 minutes.
After chilling roll the dough on a parchment paper and cut to desired shape using cookie cutter.
To cut a round hole, use a nozzle or any small size cookie cutter as shown in the picture.
Refrigerate the shaped cut cookie for 20 to 30 minutes or freeze for 10 minutes. This helps to maintain the perfect shape of the cookie.
Preheat your oven to 180 C and bake the cookies for 15 to 17 minutes or until the edges turn brown in colour. Once cool, pipe strawberry jam ( any jam or fruit preserve) on backside of one whole cookie and place the cut cookie on top.
Sandwich all the cookies and dust confectioners sugar on top and serve with hot cup of milk, coffee or tea.
How to store Linzer Cookies?
Store cookies in an air tight container for three to four days on kitchen counter top. Also, you can freeze the finished cookies neatly stacked in an airtight container for up to month. Thaw and dust the cookies with confectioners sugar before serving. You can store plain cookies as it is and pipe jam or preserve before serving too.
Linzer Cookies Recipe
Linzer cookies or Linzer Tarts are two buttery cookies sandwiched together with fruit preserves or jam.
Equipment
Microwave Convection Oven
Ingredients
2½

cups

all-purpose flour

1.8

cups

Almond meal (Badam powder)

0.9

cups

Butter (room temperature)

0.5

cups

Caster sugar

2

tablespoon

milk

¾

cup

Strawberry jam or any preserves

1 ½

tablespoon

Vanilla Extract

¼

cup

Confectioners sugar or Icing sugar (to dust)

½

teaspoon

salt
Notes
You can use whole almond, sliced almond or store-bought almond meal for these 

Linzer

 cookies. I used whole almond with skin and did not toast too. When grinding the nuts, pulse it intermittently and scrape the sides of the mixer jar with spatula. Do not run the mixer for long, as nuts start to release the oil. When sifting all-purpose flour and almond meal together use a ladle to push the flour almond mixture from the sieve. Chill the dough before shaping and after to keep up perfect shape. The filling is completely your palate preference.
Nutrition
Serving:
1
1 cookie
Calories:
80.8
kcal
Carbohydrates:
16.2
g
Protein:
2.2
g
Fat:
0.3
g
Saturated Fat:
0.1
g
Cholesterol:
0.2
mg
Sodium:
78.9
mg
Potassium:
26.9
mg
Fiber:
0.6
g
Sugar:
0.3
g
Vitamin A:
3.2
IU
Calcium:
5.6
mg
Iron:
1
mg
More Cookie Recipe You Might Like To Try
Chocolate Cream Sandwich Cookies(Egg-Less)
Chocolate cream sandwich cookies are also known as sandwich biscuits with any type of filling.
Check out this recipe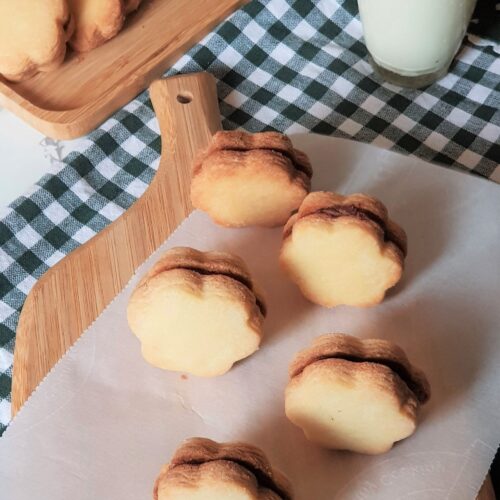 Vanilla Custard Powder Cookies(Egg-less)
This cookie is light ,crisp and melt in mouth in texture. It hardly take 15 minutes for preparing cookie dough and that's it ,bake and relish . 
Check out this recipe
Rose milk Crinkle Cookies
Rose Milk Crinkle Cookies is a delicious soft ,buttery, cakey , and best for all festive season and holidays.
Check out this recipe
Eggless Tutti Frutti Cookies/Biscuit
A simple recipe prepared with minimal ingredients available in pantry with addition of beautiful coloured Tutti Fruitti.
Check out this recipe

Cranberry Chocolate Chip Cookies
Cranberry Chocolate Chip Cookies is slightly thick and chunky with a mixture of tangy and sweet taste. No doubt, any novice baker can bake at ease.
Check out this recipe
Vanilla And Chocolate Custard Twin Cookies
Vanilla and Chocolate flavour are a match made in heaven. Try these two flavours with custard powder and you would bake again and again.
Check out this recipe
Eggless Butter Cookies
Eggless Butter Cookies is a very simple cookie that any novice baker can bake by following correct measurements. Four basic ingredients is needed to relish this golden drops of melt in mouth Butter Cookies.
Check out this recipe
Coconut And Pecan Cookies(Eggless)
Coconut and Pecan Cookies (Egg-less) are soft inside and  crunchy outside. Every bite of the cookies tastes coconutty.
Check out this recipe

Mint Biscuits/ Pudina Biscuits
Mint flavour biscuit with a hint taste of ginger, chilli is unique in this biscuit.
Check out this recipe
Please follow and like us: