Home made Dark Treacle is one important ingredient for baking Christmas Cake. It is similar to molasses but more intense in flavour. There may be substitute for Treacle but,I bet the taste differs from the Traditional Christmas cake. All needed for making this recipe is Sugar,Water and Lemon. Less ingredients and more patience is needed for making this recipe.
Dark Treacle gives the beautiful colour to the Christmas cake and intense flavour in addition to the spice mix added to the cake batter. Ready made Treacle is available in stores but Home made is free from preservatives and " My Joy knows no bound" . Hope all have followed my Christmas Cake Preparation- Part 1 – Soaking of The dry fruits ,follow and prepare the Part 2- recipe so it will be easy and ready to bake the most Awaited Christmas Cake before the Christmas.Lets see the step by step preparation of the Home made Treacle recipe. Do try and let me know your feedback in comments.
Preparation Time : 5 mins
Cooking Time : 45 mins
Recipe Courtesy – Steve's Kitchen
Ingredients
Sugar – 1 cup
Water – 1/4 cup
Sugar – 21/2 cup
Boiling water – 11/4 cup
Lemon – 1
Procedure
Weigh sugar and get ready with the ingredients.
In a heavy bottom pan or kadhai add sugar and 1/4 cup of cup water and switch on flame on low medium heat.
Let the sugar dissolve completely .Do not stir and let the sugar syrup go from clear to light brown and finally dark brown colour.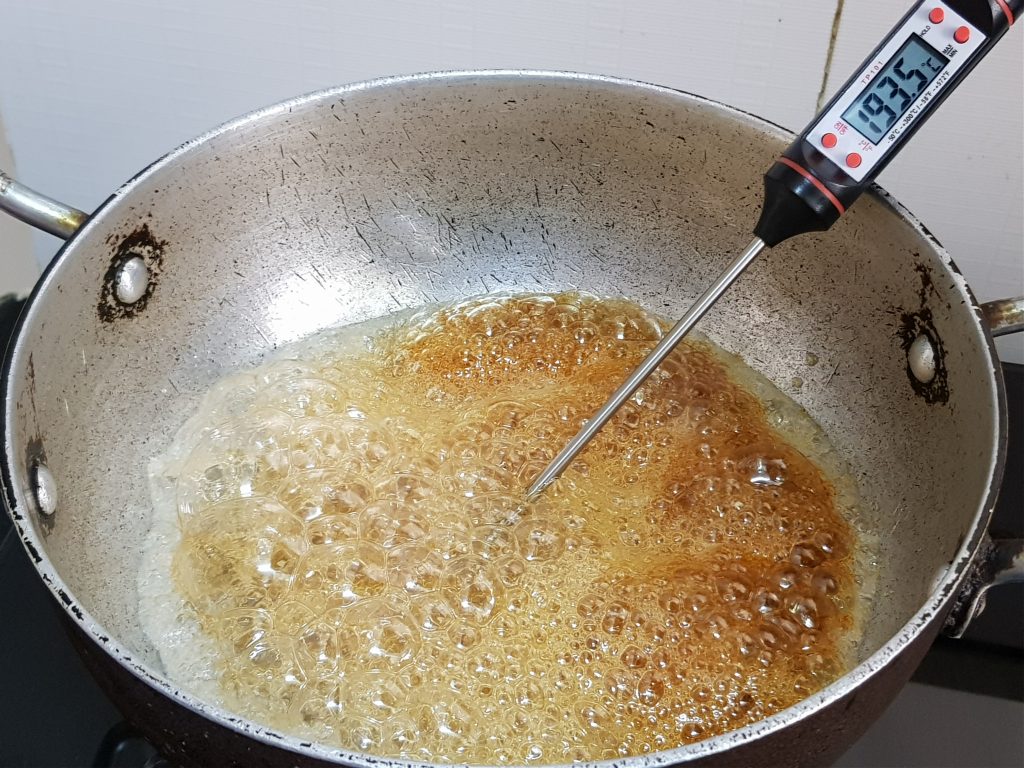 Turn off heat once it reaches 200 °C or to almost dark colour .Allow the sugars to cool slightly and let the bubbles stop bubbling.
Add in the 500 gm of sugar and very carefully pour 1 1/4 cup boiling water as it fizz when it come into contact with sugar.
The dark sugars will tend to solidify but continue stirring melt sugar gradually.
Squeeze in the juice of a lemon and drop the squeezed lemon skin into the Treacle.
Turn the heat on to a low flame and and let it boil for 35 to 40 mins .
To check the consistency of Treacle, drop a small amount of the Treacle onto the back of a plate and allow it to cool. Once it is cool take a teaspoon and check it is thick sticky Treacle.
Strain Treacle in a sieve to discard any lemon pieces in a clean sterilised jar.
Allow to cool completely before popping the lid on. Perfect Dark Treacle is ready to use for baking Christmas cake . It is perfect to store and use for any Dessert where recipe call for Treacle.
Hope you like the recipe! if so, please try it out,leave your comment and feedback which means a lot to me. Thank you so much for stopping by the site!
Christmas Cake Preparation – Part 1 – Soaking of the Dry Fruits link is given below.
https://platetopalateblog.com/?p=2002
Notes
Initially adding 1 cup sugar and 1/4 water do not stir at this stage. It will caramelize well and gives the Treacle the beautiful Dark colour.
I used candy thermometer or can go by eye precision.
If you find Treacle sets too hard add 1/4 to 1/2 cup more water,to thin the consistency and continue to simmer for a while longer until,you achieve the right consistency.
Please follow and like us: