Grilled Coffee Marinated Chicken is one of the best appetizer I personally love to make for my family. Yes,Coffee is my favourite beverage and infusing with chicken is so aromatic . And ,who do not love Chicken ? Chicken is the most favourite meat loved by all and can be cooked in many ways. As this is my first Chicken recipe in my blog, I started with an American Appetizer which is very easy and can be tried even by a Beginner in cooking.
Grilled Coffee Marinated Chicken is a scrumptious delectable dish with less spice and sweet and with a beautiful aroma of coffee . In this recipe chicken drumsticks are rubbed with spice powder,seasoning and marinated with coffee reduction sauce. The same coffee reduction sauce can be served as a dip while serving. Without further delay lets move on the recipe.
Preparation Time : 15 mins
Marination Time : 60 mins
Grilling Time : 20 to 25 mins ( every oven behaves differently)
Serves : 4
Ingredients
Chicken drumstick – 4
Cayenne pepper – 1/2 tsp
Ground Paprika – 1/2 tsp
Garlic and Pepper seasoning – 1/2 tsp
Salt – 1/4 tsp or to taste
Onion – 1
Tomatoes – 3
Coriander leaves – for garnish
For the Marinade
Instant coffee powder – 1 tsp
Demerara sugar – 2 1/2 tsp
Apple cider vinegar 1 1/2 tbsp
Procedure
Lets start making the coffee reduction first. In a pan add coffee powder, demerara sugar and apple cider vinegar together on a low heat.
Mix well and let it boil for four to five minutes until it reaches sauce consistency. Switch off the flame and transfer to a dish.
Score each chicken drumstick two to three times all over the piece. In a plate add cayenne pepper,paprika powder,garlic and pepper seasoning with salt to taste. Sprinkle little water to the powder and mix like a paste. To it add 2 tbsp Coffee Reduction sauce and apply on the Chicken Drumstick. Let it marinate for an hour before grilling. Grill Chicken Drumstick ( I used Microwave Convection Oven) on grill mode for 20 to 25 minutes and flip halfway through until it is well cooked and browned .Meanwhile cut tomatoes into half and saute with the coffee reduction sauce and keep it aside.
Before serving chicken ,garnish with sliced onion ,tomatoes and coriander leaves. Glaze chicken drumstick with the sauce and do serve it as a dip. I'm being a coffee lover ,I love to dip chicken every bite. This dish is a perfect Appetizer for all occasion.
Hope you like the recipe! If so, please try it out, leave your comments and feedback, which means a lot to me. Thank you so much for visiting by the site!
More Chicken Recipes You Might Like To Try
Easy Chicken Kurma/Easy Chicken Curry (One Pot)
Chicken Cutlet/Patties/Tikka/Croquettes
Kashmiri Chicken(Murgh)Kashmiri Chicken Curry
Pallipalayam Chicken Fry/Simple Chicken Fry
Mangalorean Chicken Ghee Roast,Semi Gravy
Notes
Use the best instant coffee powder for the sauce. Can use Brown sugar or jaggery instead of Demerara sugar. Chicken has to rest at least for 5 to 10 minutes before serving.
Chicken Semi Gravy/Curry
Chicken Semi gravy/Curry preparation is different in every household. This recipe I'm sharing here is one of the easiest recipes with minimal ingredients available in your pantry.
Check out this recipe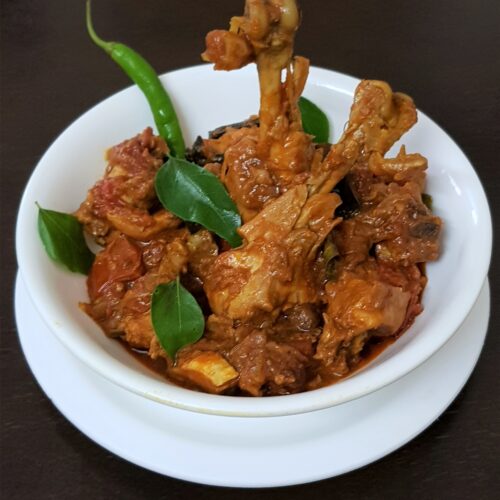 Pepper Chicken Gravy
This Pepper Chicken Gravy is made using spices in different combination and this is one of my family's favourite chicken gravy.
Check out this recipe
How To Make Easy Simple Coriander/Cilantro Chicken Curry
Coriander/Cilantro Chicken Curry is a one-pot chicken curry that is a simple recipe to prepare in a few minutes. This chicken curry is full of fresh coriander flavour and beautiful green colour.
Check out this recipe
Please follow and like us: